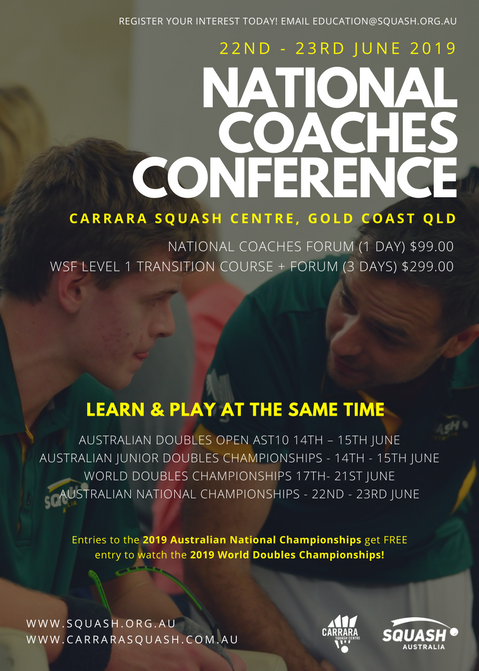 2019 welcomes the National Coaches Conference back for a third installment to be held at Carrara Squash Centre on the Gold Coast from 22-23 June. Squash Australia realizes the need for coaches to come together as frequently as possible throughout the year to share ideas, open lines of communication and bridge gaps that can be created due to the vastness of space between us all in Australia.
The 2019 National Coaches Conference will be a fantastic way for any level coach or player to come and spend time with fellow coaches and discuss all aspects of the coaching landscape.
Dates
Saturday 22nd June
Sunday 23rd June
Costs
1 day - Coaches Forum (Friday only): $99
3 days - Coaches Forum and WSF transition course (Fri-Sun): $299
Information
1 day Coaches Forum:
Overview of coaching landscape in Australia and view for the future
Light Refreshments
Guest speaker/s
3 day Coaches Forum and WSF transition course:
Includes Coaching Forum
Light refreshments
Guest speaker/s
On court demonstration
Introduction to World Squash Federation coaching framework
Internationally recognised WSF Lvl 1 accreditation (requires small rego fee direct to WSF)
This will be a fantastic opportunity for coaches of all ages and abilities to be a part of active group discussion, witness world class coaching and get up to date with what's happening in Squash around the country.
Participants are encouraged to book their spot in the workshop early as spaces will be limited.
Book through the button below or to register your interest or get more information fill out the form below or contact
[email protected]
Book Your Spot Now!
National Coaches Conference - Register Your Interest