The highest honour for former stars is induction into the Squash Australia Hall Of Fame, which recognises those exceptional players who have reached the very top of the game. Inductees are recognised at the annual Hall of Fame Dinner, which generally takes place in late March each year.
Legends
Vicki Cardwell
---
Born: 21 April, 1955
Place of Birth: Adelaide
Resides: Melbourne
Highest world ranking: 1 (1980-83)
Vicki Cardwell was a dominant force on the world and Australian squash scene from the late seventies to the mid-nineties.
She was the World Open Women's Champion in 1983 and claimed the British Open crown on four occasions - in 1980, 81, 82 and 83. During the same period Cardwell was a member of the Australian team at the World Women's Team's Championships in 1981, 87 and 89.
Her Australian record is also outstanding, winning the Australian Amateur Women's Championship in 1978 and then going on to clinch the Australian Women's Open Championship in 1979, 80, 82, 83, 84, 88 and 89.
Her squash career did not end there as she also holds many Masters titles - winning the World Masters Championships in 1987 (45), 1990 (45), 1993 (50), and 1995 (50).
Her outstanding career has been recognised by her induction into the Squash Australia Hall of Fame and the Australian Sport Hall of Fame.
The Australian government has also acknowledged her contribution and services to squash and Australian sport with the award of the British Empire Medal.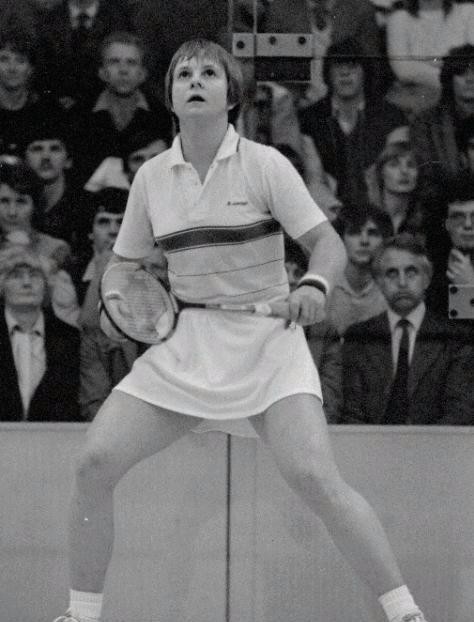 Sarah Fitz-Gerald
---
Born: 1 December 1968
Resides: Melbourne
Highest ranking: World No.1
Player Highlights: Sarah Fitz-Gerald is recognised as one of the top three female squash players of all time, having only been beaten once in the past seven years (the semi finals of the 2001 Hong Kong Open).
Sarah's career started by winning the World Junior Championship in 1987, before bursting onto the senior tour to win numerous major titles as well as five World Team Championship titles, World Cup gold medals and the 2002 Commonwealth Games gold medal.
Sarah represented Australia from the age of 14, having worn the 'green and gold' on 75 separate occasions.
After holding the No.1 ranking position unbroken for two years, Sarah underwent knee surgery in December 1998 and May 1999, returning to competition in 2000. She retired from the World Tour in February, 2003.
Although Sarah's on-court feats are excellent, she has worked just as tirelessly off the court, devoting much of her spare time to the administration and promotion of women's squash at the international level, as well as the grass roots level to increase participation, especially for young girls and women.
Sarah was on the Board of the Women's International Squash Players Association (WISPA) for 11 years and as its President since 1995.
Although the primary aim of WISPA is to oversee the professional side of the sport, under Sarah's Presidency, this body has developed interest in the game amongst women and girls in under developed squash nations and each year WISPA undertakes promotional tours into these countries and on each occasion Sarah has spent unpaid time leading these groups.
Sarah has worked tirelessly for the promotion and development of squash throughout the world and has been an outstanding ambassador for the sport and for Australia on the world sporting stage, as well, an excellent role model for women.
Sarah's sporting feats as well as her attitude of giving back to the sport more than she has received, has held her in high esteem by many people within the Australian and international sporting arenas.
Sarah's foresight to take squash to women and girls in countries that previously had not had the opportunity to be involved in international competition has allowed the international game of women's squash to grow and be stronger well into this new century.
Sarah has won numerous state and national awards, possibly the most significant being the 2001 Dawn Fraser Award.
The criteria for the Dawn Fraser Award was established by Sport Industry Australia to reflect the achievement and standing of Dawn Fraser within Australia and on the stage of international sport. The Award winner must display excellence, on the sporting field, as well as demonstrate outstanding qualities through their contribution to other areas in Australian society.
At the 2001 award ceremony, Dawn Fraser said that Sarah "had displayed outstanding commitment to her sport, both on and off the court and had proven herself to be an outstanding Australian".
To win the 2001 Award, Sarah defeated the likes of Lleyton Hewitt and Ian Thorpe.
ACHIEVEMENTS:
Winner of 65 WISPA and World Tour titles from 94 finals appearances
Five-time World Open Squash Champion (1996, 97, 98, 01, 02)
Twice British Open Champion (2001, 02)
Australian Open Champion (1997, 2001, 02, 03)
World ranked No.1 (1996-98, 2001-03)
World Cup Gold Medallist (1997)
Five-time World Teams Champion (1992, 94, 96, 98, 02)
World Junior Champion (1987)
Represented Australia on 75 occasions
Commonwealth Games Gold Medallist – Individual (2002)
Commonwealth Games Silver Medallist – Individual (1998)
Commonwealth Games Bronze Medallist – Doubles (1998)
MAJOR AWARDS:
Dawn Fraser Award Winner (2001) defeating Lleyton Hewitt and Ian Thorpe
Australian Female Athlete of the Year (2001)
VIS Athlete of the Year (1998, 2002)
Australian Junior Female Athlete of the Year (1987)
Australia Junior Female Team of the Year (1985)
Victorian Sportswoman of the Year (2002)
Victorian Sportsperson of the Year (2002)
Order of Australia (AM) (2004)
Squash Australia Hall of Fame (2005)
Squash Australia Hall of Fame (Legend) (2012)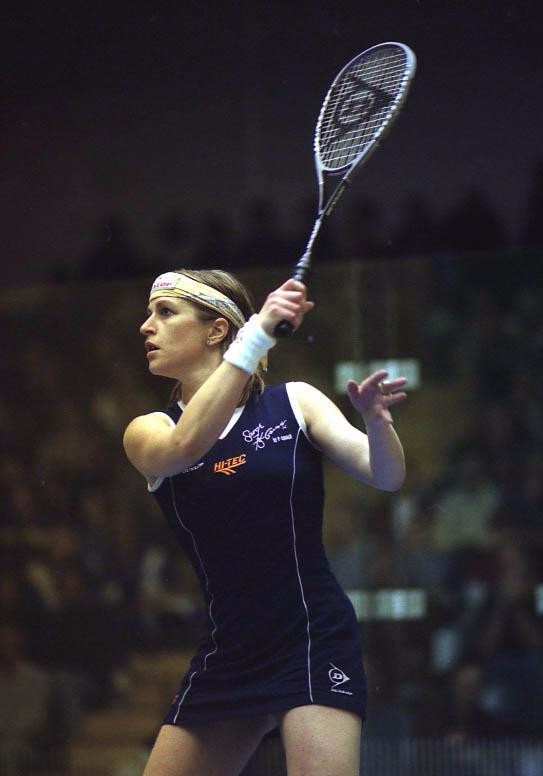 Ken Hiscoe
---
Born: 21 January 1938
Place of Birth: Sydney
Resides: Sydney
Highest world ranking: 1
Ken Hiscoe is one of the stalwarts of Australian squash. His performances and efforts through the sixties and seventies assisted in forming the sound foundation for Australian squash that we have today and the athletes that followed.
He won seven Australian Championships in 1960, 61, 62, 63, 64, 66 and 67.
During the same period Hiscoe was off around the world collecting the South African Championship and the Scottish Championship in 1963.
He captained the Australian men's team from 1964 to 1971, which was unbeaten, and played in the World Team Championships in 1967, 1969 and 1971. From 1971 to 1978 Hiscoe won 20 individual titles worldwide.
Once leaving the senior elite ranks he continued in the Masters where he won the British Open Masters Championships from 1980 to 1993, and was the World Masters Champion for the 45year age group in 1983.
Hiscoe never played in a losing NSW or Australian team from 1960 to 1978 - a great feat in its own right.
Hiscoe also mentored a 16-year-old Geoff Hunt on his first tour to England.
His squash ability and his services to the sport have been acknowledged by his induction into the Squash Australia Hall of Fame in 2005.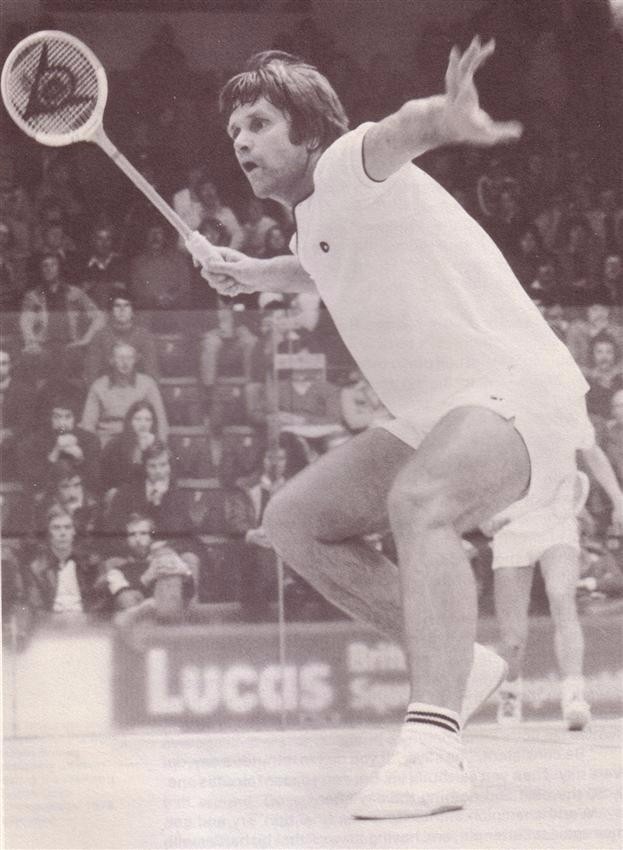 Geoff Hunt
---
Born: 11 March, 1947
Place of Birth: Melbourne
Resides: Gold Coast
Highest world ranking: 1 (1975-80)
Geoff Hunt, without doubt Australia's most prolific male squash athlete, won every major international tournament during a glittering career. He blazed the global squash scene winning three World Amateur Championships in 1967, 69 and 71 and won the inaugural World Open in 1976 before collecting three further World Open titles, in 1977, 79 and 80.
He complemented these victories with eight British Open Championships in 1969, 74, 76, 77, 78, 79, 80 and 81. During these glory years he remained as world No.1 from 1975 to 80.
He went on to represent Australia three times as an athlete at the World Teams Championships in 1967, 69 and 71, then as a manager/coach. He won the Australian Open eight times - in 1971, 74, 76, 77, 78, 79, 80 and 81.
Hunt, who won 178 of the 215 tournaments he contested, has been honoured by the World Squash Federation, being inducted into the WSF Hall of Fame as well as the Squash Australia Hall of Fame as a "Legend". He has also been inducted into the Australian Sport Hall of Fame.
Hunt began playing squash at the age of 12 and won his first State championship, the 1962 Victorian junior title, at the age of 15. The following year he won the Australian Junior Championship and his first open event, the Victorian State Championship. In 1965, at 18, he became the youngest player in history to win the Australian national title.
His services to squash and sport have been acknowledged by the Australian Government on two occasions when he received the decorations of the MBE and AM. Since retiring from competition in 1982, Hunt has channeled his expertise into coaching other athletes on the world stage and was made head coach of the Australian Institute of Sport (AIS) squash unit when it opened in 1985. He was then the High Performance Manager of Squash Australia and a consultant to the AIS Squash Program.
Geoff is now the Head Coach at the Aspire sports institute in Qatar.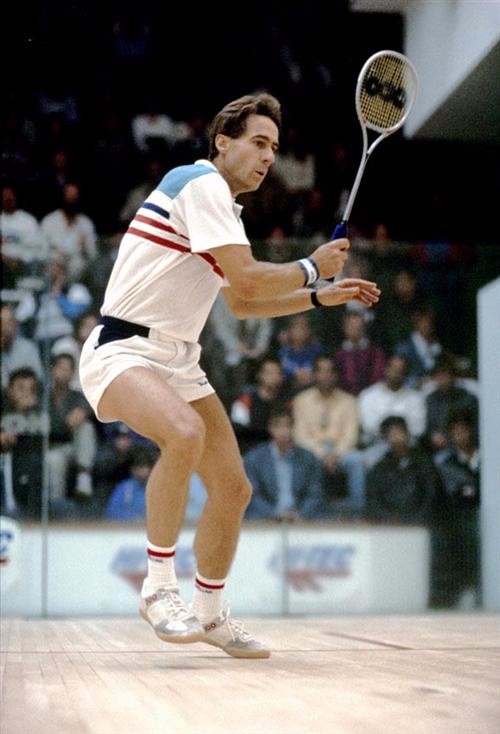 Michelle Martin
---
Born: 29 April 1967
Place of Birth: Sydney
Resides: Sydney
Highest world ranking: 1 (1993-95 and 99)
Michelle Martin has been one of Australia's most prolific athletes on the international squash scene. She won three consecutive world titles in 1993, 94, and 95, and clinched six straight British Opens titles – in 1993, 94, 95, 96, 97 and 98. She also held the world No.1 ranking from 1993-95 and again in 1999.
This domination overflowed into her Australian representational duties, competing at six World Women's Team's Championships in 1987, 90, 92, 94, 96 and 98.
Martin also competed for Australia at the 1998 Kuala Lumpur Commonwealth Games winning two gold medals in the women's singles and the mixed doubles. She also represented Australia in the 1996 and 1999 World Cups. In addition to her outstanding international prowess she won seven Australian Open Championships – in 1991, 93, 94, 95, 96, 98 and 99.
Her outstanding squash attributes have been acknowledge by both the Australian public and the World Squash Federation after being inducted into both respective Sports Halls of Fame. In March 2005 she was inducted into the inaugural Australian Squash Hall of Fame.
Martin has continued her commitment to Australian squash in the coaching field, and was manager/coach of the victorious Australian team at the 2004 World Women's Teams Championship in Amsterdam.
In 2013 the Australian government acknowledged Michelle's contribution and services to Squash and Australian sport with the award Medal of the Order of Australia.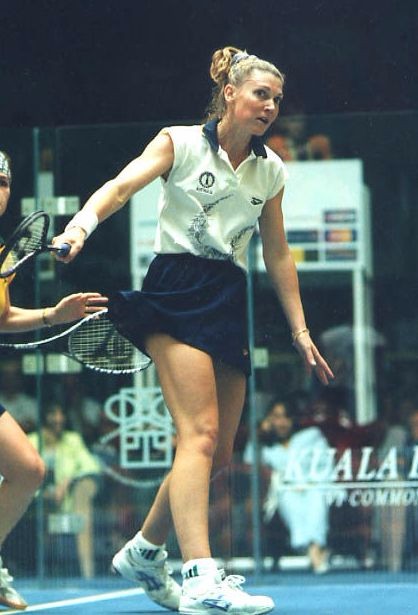 Heather McKay
---
Born: 31 July, 1941
Place of Birth: Queanbeyan, ACT
Resides: Canberra
Highest world ranking: 1
Heather McKay is considered Australia's greatest ever sportswoman. Heather's dominance in women's squash is a matter of historical record, winning 16 consecutive British Opens from 1962 to 1977 - an absolutely incredible feat - and 14 straight Australian Amateur Championships from 1960 to 1973. Neither of these successes have been equalled or surpassed.
In another amazing statistic, Heather lost only two matches in her entire career – in 1960 and 1962 - and was unbeaten in competitive squash matches from 1962 to 1981 when she retired from active open squash.
In 1976 Heather won the first but unofficial World Women's Open held in Australia and went on to win the first official Open in 1979 in England.
Heather continued on in competitive squash at international Masters level winning four World Championships in 1987 (45), 1990 (45), 1993 (50) and 1995 (50). The Australian public has acknowledged Heather's significant contribution to Australian sport with Heather being inducted into the Australian Hall of Fame as a "Legend". She is also a member of the World Squash Federation Hall of Fame. Heather's dedication and performance in sport has been recognised by the Australian Government by her being awarded the decorations of the Member of the British Empire (MBE) and the Australian Medal (AM).
Chronology
1960 - 1973 Winner of the Australian Amateur Championships
1961 - 1973 Winner of New South Wales Championships
1961 - 1973 Winner of Victorian Championships
1962 - 1977 Winner of the British Open Championships
1965 Married Brian H McKay
1967 Awarded ABC Sportsman of the Year
1 January 1969 Appointed Member of the Order of the British Empire
1976 Winner of the World Squash Championship
1977 Winner of the American Championship
1979 Winner of the American Amateur Racquetball Championship
1979 Winner of the World Squash Championship
26 January 1979 Awarded Member of the Order of Australia
1980 Winner of the Canadian Racquetball Championship
1980 - 1981 Winner of the American Professional Racquetball Championships
1982 - 1985 Winner of the Canadian Racquetball Championships
1984 Winner of the American Professional Racquetball Championship
1985 - 1998 Squash Coach with the Australian Institute of Sport
30 August 2000 Awarded the Australian Sports Medal
12 March 2005 Inducted into the Squash Australia Hall of Fame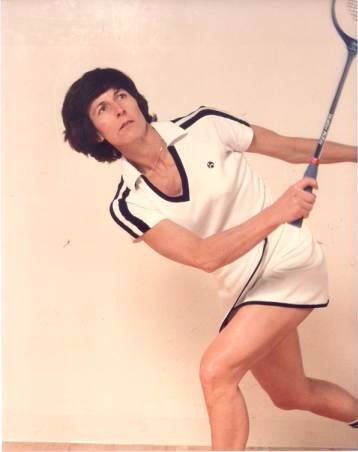 Members
Steven Bowditch
---
Date of Birth: August 9 1955
Born: Darwin
Lives: Adelaide
During his career Steven Bowditch was the ultimate squash nomad, living in 10 countries and travelling and playing in more than 50. Born in Darwin, Northern Territory and a descendant of the Arabana people from outback South Australia - an Aboriginal native title group who claim some of the oldest games and playing fields in the world.
After winning the Northern Territory Open at just 15 years he travelled south to represent New South Wales and Australia as a junior. Competing in the Australian junior championships from 1970 to 1974. In 1976 as an amateur he travelled Europe for the first time and represented in an unofficial Australian Amateur team that toured Sweden before returning and winning his first professional tournament the Port Adelaide Open in 1977.
Known for his spectacular shot making and lightning reflexes he was one of the few players who straddled both the ISPA, the International Squash Professional Association tour and the American WPSA World Professional Squash Association hardball tours. Being ranked in the top 16 and the top 8 respectively from the late 1970's to late 1980's. Achieving a high of no. 2 on the American Hardball tour in 1986.
His best results came in the 1981 at the ISRF World Individual Championships in Sweden. A kind of "Bradbury moment" as neither Jahangir Khan or Geoff Hunt competed due to lack of prize money as Amateur squash transitioned to the Open era. The following week he captained the Australian team to runner up in the World Teams. In hardball squash he was twice runner up in their major; the North American Open, 1985 & 1986. Including against Jahangir on a New York Broadway stage in 1985.
Bowditch also gave to squash as an administrator, tournament organiser in Darwin and Austria, spent time on the World Squash Council, and as a national coach –for Malaysia and as a trainer for the Swedish and Austrian teams. He has also been accomplished at golf, tennis, basketball and Aussie Rules football.
Interestingly, Steven can claim to have played and/or been mentored by most of the legends of the game including Heather Mckay, Geoff Hunt, Hashim Khan, Jonah Barrington, Abou Taleb, Jahangir Khan, Jansher Khan, Sharif Khan and the American Hardball legend Mark Talbot. This the subject of a squash book he is writing called Tips from Squash Legends & Dreamtime Sky Hero.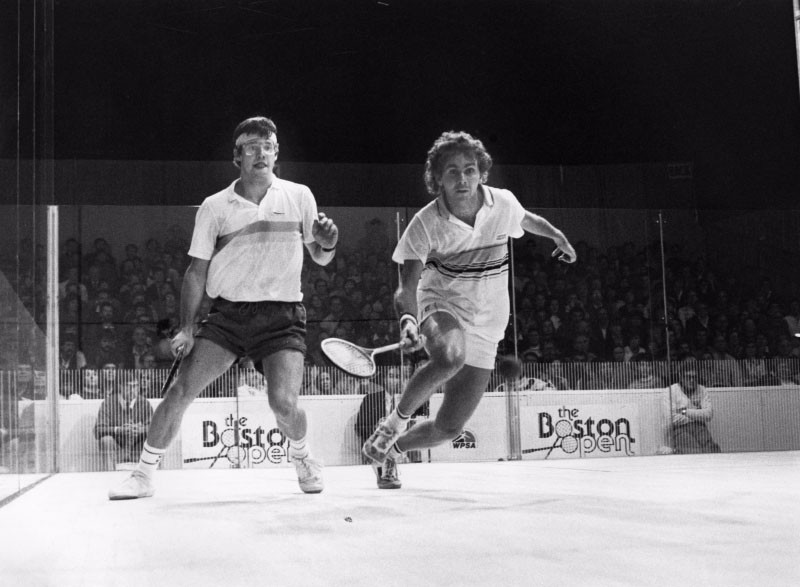 Chris Dittmar
---
Born: 16 January 1964
Place of Birth: Adelaide.
Resides: Tennyson, South Australia
Chris Dittmar is arguably the greatest player in the modern era never to have won a World Open after he finished runner-up on five occasions – in 1983, 1987, 1989, 1990 and 1992 – losing to the mighty Jahangir or Jansher Khan on each occasion.
He was runner up in two British Opens – in 1985 and 1993 – and during this period Chris also represented Australia in the World Men's Teams Titles, in 1983, 1987, 1989 and 1991. Chris was runner-up in two World Junior Championships in 1980 and 1982, and he won the British Open Junior Championship in 1981.
During his career Chris took out many Australian and international titles, including three Australian Opens – in 1988, 1989 and 1991 – as well as three New Zealand Opens, three Canadian Opens, three European Opens, and two South African Opens.
His outstanding contribution to squash has been recognised by his induction into the Squash Australia Hall of Fame in 2005. Chris has continued his support for Australian squash in his role as Patron of Squash Australia from 2002 to 2005.
He is one of Australia's athletes, who through his squash skill and presence on the world scene, assisted in establishing the firm base upon which Australian squash now resides.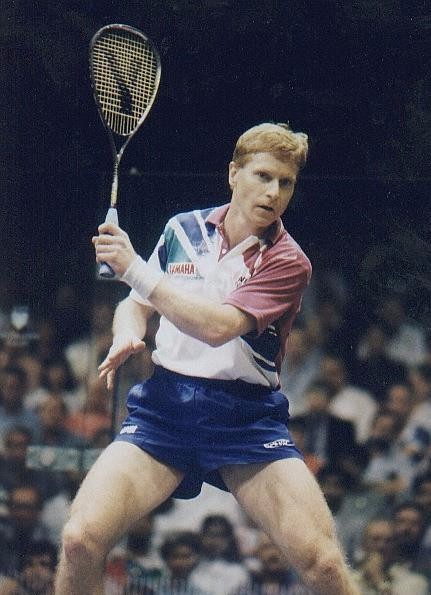 Rodney Eyles
---
Place of Birth: Brisbane
Resides: Gold Coast
Highest world ranking: 2 (1996-97)
World Title: 1997
Rodney Eyles reached the pinnacle of his career in 1997 when he comprehensively defeated England's Peter Nicol in straight games in Kuala Lumpur to take out his only World Open title.
It was a sweet victory for Eyles, who went down fighting in the previous year's World Open final to the great Pakistani, Jansher Khan, in four games. This was a golden period for the then world No.2 Eyles who reeled in several major titles and was one of the dominant forces on the world tour.
The Queenslander clinched four tournaments in 1996 – the US Open in Minneapolis, which followed his US Open success two years earlier; the French Open in Paris; the Hong Kong Open; and the Hungarian Open in Budapest. He also reached the finals of the British Open, the Tournament of Champions, the Qatar Open and the Pakistan Open in the same year. And he added the Australian Open title the following year as well as being crowned world champion.
Eyles' other tournament victories included the Mahindra Open in Bombay, the Italian Open in Florence, the North American Open in Denver, Colorado and the Tournament of Champions in New York. He was also a member of Australia's 1991 world title winning squad in Helsinki, Finland, and captained the Aussies from 1994-97.
Squash was introduced to the Commonwealth Games in Kuala Lumpur in 1998 and Eyles teamed up with Byron Davis to claim a silver medal for Australia in the men's doubles. His presence on the world tour was also felt off the court when he held the prestigious position of Professional Squash Association (PSA) president from 1996-98. Eyles eventually retired from the World Tour in November, 2000 after a highly successful career.
Career highlights
1997 World Open Champion
1991 World Men's Teams Champion
1997 Australian Open
1996 US Open
1997 Australian Open Champion
1985 Australian Junior Champion
1986 Australian Junior Champion
1998 Commonwealth Games men's doubles silver medal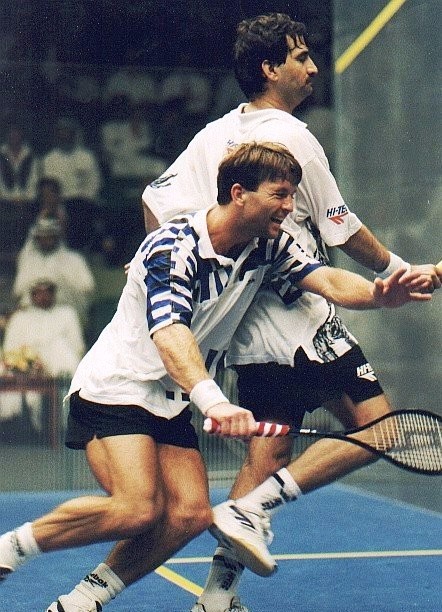 Liz Irving
---
Born: February 7, 1965
Place of Birth: Brisbane
Resides: Amsterdam
Highest world ranking: 2 (1998)
Liz Irving won four consecutive women's world teams titles in the 1990s as part of one of the greatest Australian teams in any sport in any period.
Irving, born in Brisbane on February 7, 1965, won nine titles on the women's professional tour during a distinguished career, beginning with the Irish Open in 1991 and ending in Malaysia in 1997. That figure would have been far greater if she hadn't had the "misfortune" of playing in the same era as the great Michelle Martin, who she always seemed to come up against in major finals.
Irving finished runner-up to Martin at the 1993 World Open, the 1994 and 1995 British Opens and the Australian Opens of 1991, 1993 and 1994. But when she and Martin played alongside each other in the Australian team they were almost unbeatable. In 1990, they finished runners-up to England, and unbeaten for the next four editions when they were joined by fellow Hall of Fame member Sarah Fitz-Gerald, Robyn Lambourne (1992) and Carol Owens (1994 and 1998).
Irving won the mixed doubles titles at the inaugural World Doubles Squash Championships in 1997 with Dan Jenson. Since retiring as a player, Irving has settled in Amsterdam, where she coaches a number of top international women players, including world number one Nicol David.
Career Highlights
1992, 94, 96, 98 Women's World Teams Champion
1991 Irish Open
1995 Malaysian Open
1993 Australian Junior Champion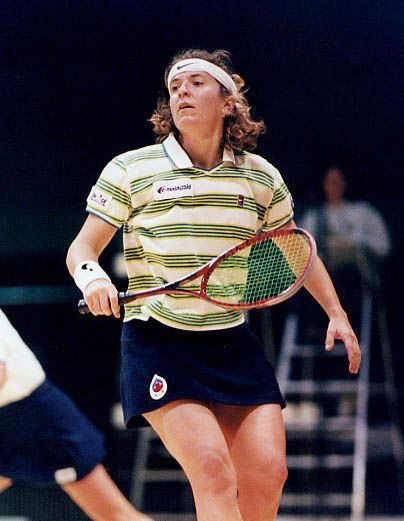 Sue Newman (King)
---
Date of Birth: April 24, 1950
Born: Sydney
Resides: Sydney (Kogarah)
Sue Newman-King has enjoyed one of the most distinguished careers in Australian squash history – as a player, a coach and as an administrator.
Sue's first contact with squash came when her father built the Moorefield Squash Centre in Kogarah in Sydney's south in 1957, and her involvement continues to this day.
But unlike many other children who were brought up in family-owned squash centres, Sue initially resisted the urge to play, instead earning pocket money by sweeping the courts at the end of the day's play.
"The crazy thing is I didn't start playing until I was 13," she said.
She only picked up a racket when a patron, who had celebrated a little too freely at the Christmas drinks, challenged her to a contest to see who could bounce the most times on Sue's pogo stick.
"I did about 200 and he fell off after three, so he said 'come on, I'll challenge you to a game of squash', and that was it."
From that hit, a future British Open champion was born.
Sue played her first pennant match in 1963 and remarkably has missed only six pennant competitions since then.
She won her first major titles in 1968 when she was crowned both NSW and Australian junior champion and then went on to become Australian Amateur Champion in 1975 and 1976, the first woman to win both the national junior and senior amateur titles.
She toured Britain and Ireland in the early 1970s, winning a swag of national titles along the way and reached the final of the British Open in 1976, where she came up against Heather McKay, a player who she had met many times before in New South Wales competitions.
When Heather retired Sue seized her chance and claimed the 1978 British Open with a win over Vicki Cardwell 9-4, 9-7, 9-2.
Sue captained Australia at the first Women's World Teams Championships in 1979 in a team featuring fellow Hall of Fame inductee Barbara Wall, Rhonda Thorne, Vicki Cardwell and Anne Smith, and played at the top level for another two years before turning her hand to coaching and administration.
She has had a long involvement with US squash and has hosted many tours from the US as well as organising teams of young Australians to travel to North America.
Sue has been heavily involved in coaching juniors for the past 10 years and was current AIS player Scott Arnold's coach before he moved to Brisbane,
She currently coaches Andrew Lloyd, the number three ranked boy in the 15 years age division in New South Wales.
Sue was awarded the Order of Australia in 1999 for services to squash and the Australian Sports Medal in 2000.
Career Highlights
1978 British Open
1975 Australian Amateur Champion
1976 Australian Amateur Champion
1976 Irish Open
1976 Scottish Open
1973 Welsh Open
1980 South of England Open
Four time NSW Open champion 1975, 1976, 1978, 1980
Two time NSW Amateur champion 1974, 1975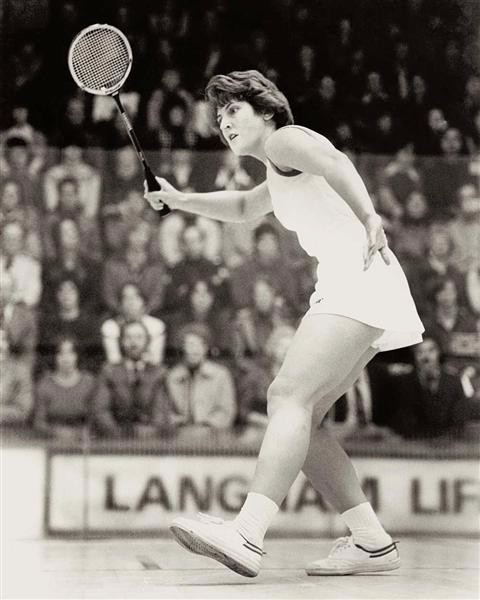 Rodney Martin
---
Lives: New York
Highest world ranking: 2
World title: 1991
Rodney Martin is renowned as one of the greatest shotmakers that squash has ever seen.
Martin won the World Open title in 1991, creating a unique piece of history by becoming the only person ever to defeat legendary Pakistani duo Jahangir Khan and Jansher Khan in the same tournament.
He became the first Australian in a decade to win the coveted world crown when he came back from a game down to defeat Jahangir in a classic final 14-17 15-9 15-4 15-13.
Martin also played a key role in helping Australia to the world teams' championships in 1989 and 1991.
Martin, who reached a career high world ranking of two, won five Australian Open titles – in 1986, '87, '90, '92 and '93 – and two prestigious Hong Kong Open crowns, in 1986 and 1992, and he also won US Open titles, in 1989 and 1991.
Although he never won a British Open, he finished runner-up on three consecutive occasions, from 1988-90.
Martin was forced to retire from the World Tour in December 1994 because of a hip injury and has been employed since 1997 as a coach at the Australian Institute of Sport (AIS) squash unit.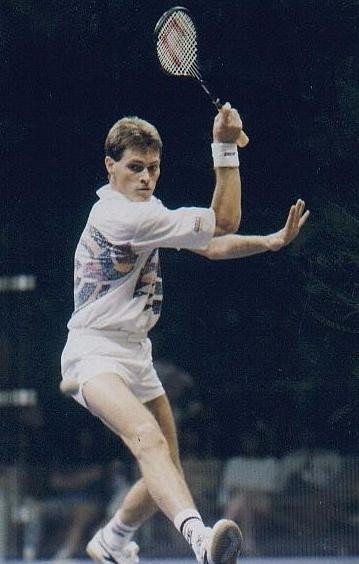 Cam Nancarrow
---
Born 9 April 1945
Place of Birth: Sydney
Lives: Brisbane
Highest world ranking: 2
World title 1973
Cam Nancarrow came to the sport that made him world champion almost by accident.
When in 1961 a squash centre was built near where he was living in the southern Sydney suburb of Rockdale , Cam's father won a raffle held to celebrate the courts' opening, taking home a racket, some balls and a pair of shoes.
But after playing the game a few times, Cam's father decided it was too much like hard work and so gave the gear to his son, then a golf loving 16-year-old.
Cam gave it a shot and soon discovered he had a flair for the game, quickly developing into a top class junior, winning his first event when he took out the Combined High School championship in Sydney.
Success followed as Cam won a number of junior tournaments and made his way up the extremely powerful New South Wales ranks.
Cam won the Australian Amateur Championship in 1972 and followed that win with the British Amateur and New Zealand Open titles that same year.
He reached the peak the following year when he won the World Amateur title in South Africa, beating England's Bryan Patterson in the final in straight games 9-2, 9-5, 9-3.
The 1973 championship was Cam's third appearance in a World Championship final – he had gone down to fellow Hall of Famer Geoff Hunt 1967 and 1971.
Geoff also denied Cam the 1969 and 1977 British Open titles.
Cam turned professional after winning the 1973 title and toured extensively until he retired.
He won tournaments in winning tournaments in Scotland, New Guinea and South Africa, as well as Australia.
He said winning the Canadian Open in 1973 was one of his career highlights, as the North Americans played under different rules and using different balls and the Australians weren't expected to get past the first round.
Cam also won four World Team Championships in a golden era for Australian squash.
"We had the strongest 2, 3 and 4 players in world squash," he said.
"So if someone, like Jonah Barrington, beat Geoff at number 1, they still couldn't beat us because our 2, 3, and 4 were so strong.
"In that period, our 2s, 3s, and 4s never lost a match."
Cam, stepfather of former top Australian player Tristan, moved to Queensland in 1982, where he established a furniture restoration business.
He doesn't play squash any more – in fact he's gone full circle and if he's not at home, odds are that you'll find him on a golf course."
Career Highlights
1973 World Amateur Champion beat Bryan Patterson of England 9-2, 9-5, 9-3 in South Africa
1973 World Teams Champion
1971 World Teams Champion
1969 World Teams Champion
1967 World Teams Champion
1972 Australian Amateur Champion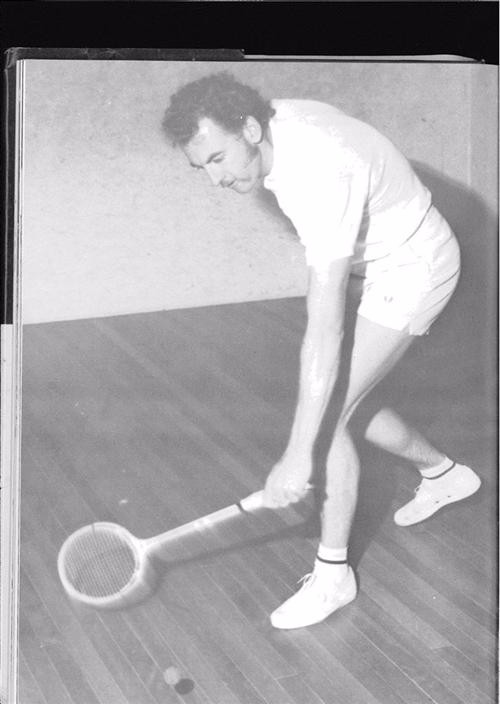 Anthony Ricketts
---
Date of Birth: March 12 1979
Born: Sydney
Lives: Brisbane
Former British Open winner Anthony Ricketts has been inducted into the Squash Australia Hall of Fame, joining a host of former champions who have previously been honoured by the sport's national governing body.
Ricketts combined with fellow New South Welshman David Palmer and Canberra's Stewart Boswell to keep the Australian squash flag flying high during the 2000s.
He was part of the Australian team that won the 2003 World Men's Teams Championship and also won silver medals alongside Boswell in the men's doubles at the 2002 and 2006 Commonwealth Games.
The 31-year-old Ricketts was once ranked as high as three in the world and was the top Australian at the time, but he had his career marred by a succession of knee injuries, one of which eventually forced him into a premature retirement.
He was born in Sydney in March 1979 and began playing at the Thornleigh courts when he was nine years old.
He was national champion at Under 17 level in 1996 before announcing his arrival on the Australian squash scene when he was crowned national junior men's champion in 1999, following on immediately from Palmer and Boswell.
He won the first of his eight main Professional Squash Association titles the same year when he beat Billy Haddrell in straight games to win the YTL Open in Kuala Lumpur, but his first major success came in 2000 when he beat Paul Price to win the first of his two Australian Opens.
He won twice more in 2001, including the Malaysian Open, as he took his world ranking to 19, before cracking the top 10 in 2002, reaching number seven in the world.
Ricketts consolidated his world ranking until injuring his knee in January 2004, which forced him off the tour for seven months.
He returned late in 2004 and achieved his breakthrough year in 2005 when he won two of the world's most prestigious tournaments – the Tournament of Champions in New York and the British Open, along with his second Australian Open.
Seeded 10th at the Tournament of Champions, Ricketts beat third seed Peter Nicol, Amr Shabana and world No 1 Thierry Lincou on his way to the title.
Eight months later at the British Open, the sixth-seeded Ricketts beat Peter Nicol in the semi-finals then James Willstrop in the final for the biggest win of his career.
"The British Open was the highlight of my career, due largely to the number of great Australians players that had gone before me," he said.
"There is so much history involved with it, and much of that history has been created by Australians."
Ricketts kept the momentum going in 2006, reaching the final of the Canary Wharf Classic before winning the 2006 Super Series, the last major triumph before a recurrence of his knee injury forced him to call time on his career in 2007.
"I knew it was time – I had had five arthroscopies on my right knee and I had been playing in pain for a long time before I called it quits."
Ricketts is not lost to the sport.
He is currently high performance coach for Squash New Zealand and is engaged to former New Zealand number one and 2007 Australian Open champion Shelley Kitchen.
Career Highlights
2005 British Open
2000, 2005 Australian Open
2005 Tournament of Champions
2006 Super Series Champion
2000 Malaysian Open
2003 Men's World Teams Champion
2002, 2006 Commonwealth Games Silver Medalist (Men's Doubles)
1999 Australian Junior Champion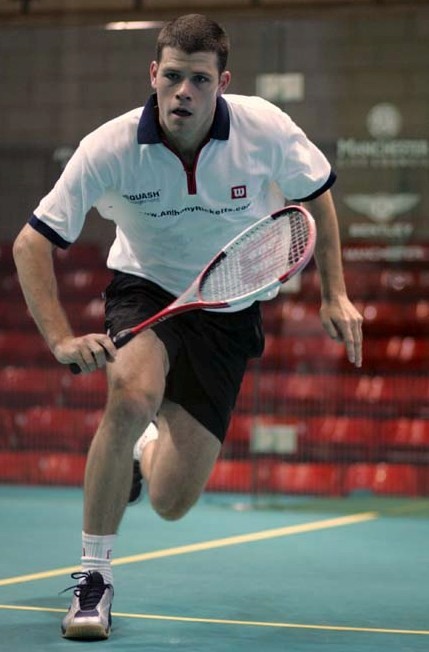 Kevin Shawcross
---
Born 3 December 1948
Died 3 June 1987
Place of Birth: Lithgow (NSW)
Highest world ranking: 4
World Title: 1976
When Kevin Shawcross beat South Africa's Dave Scott to win the 1976 World Amateur Championship, the larger than life character had fulfilled all the promise he had shown learning the game on his parents' squash courts in the New South Wales town of Lithgow.
Kevin was 28 at the time and had already carved a reputation as one of the true characters of the game.
With a playing weight of 101 kilograms (16 stone), Kevin was built more like a footballer than a squash player, but his amazing natural ability more than compensated for his size.
The Pakistan players with whom he was great friends used to refer to him as a God because they couldn't believe someone that big could play so well.
Kevin's brother Denis says Kevin did everything wrong on the court.
"He had no back lift, no follow through – it was all in the wrist," he said. "I think he was one of the first players in the world to develop a fan shot – he just had a real natural ability."
Kevin loved to live life to the full and was enormously popular in England and Ireland, where he gave free exhibitions and mingled with fans well after a tournament.
He was a renowned socialiser and although he remained based in Lithgow, he loved to travel the world playing the sport he loved.
Kevin found it hard to settle down once he left the tour behind as he missed the life of a touring professional.
While the highlight of his career was his 1976 World title, Kevin also won a string of other tournaments, including the Swiss and New Zealand Opens in 1976 (he turned professional after his world amateur win that year), and the 1975 Australian, British and New South Wales amateur titles.
He also won the Scandinavian Open in 1975.
Kevin played on New South Wales and Australian teams from 1964-76, his last appearance for Australia being the 1976 Men's World Team Championships.
Coincidentally, current Australian great David Palmer learned his squash on the same courts that Kevin's father built in Lithgow in 1960.
Both Kevin and David have also been inducted into the city of Lithgow's own sports Hall of Fame
Career Highlights
1976 World Amateur Champion
1976 Swiss Open
1976 NZ Open
1975 Australian Amateur Champion
1975 British Amateur Champion
1975 NSW Amateur Champion
1975 Scandinavian Open
1965 Australian Junior Champion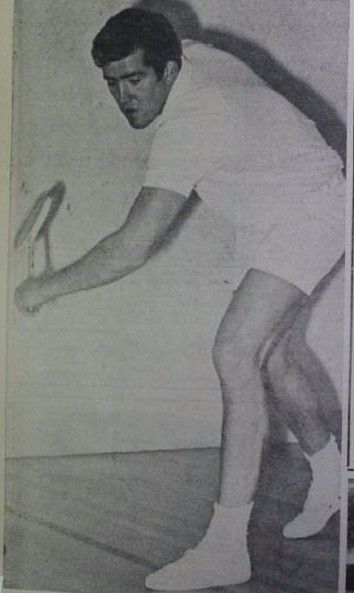 Rhonda Thorne
---
Born: 6 February 1958
Place of Birth: Toowoomba, Queensland
Resides: Brisbane
Highest world ranking: 1
World Title: 1981
Queensland's Rhonda Thorne was a force in world squash during the late 1970s and early 1980s, becoming world champion for the only time in 1981 when she beat compatriot Vicky Cardwell in the final in Toronto, Canada. Two years later the pair met again in the world open final but this time Cardwell was victorious in Perth.
Rhonda was at the pinnacle of her game during this period of her career and held the world No.1 ranking during both 1981 and '82 and remained in the world's top 10 from 1979-84. She also represented her country for seven years from 1977-84 and had the honour of captaining Australia from 1981-83, during which time the Aussies won the world team's titles twice.
Rhonda also captained Queensland from 1978-83 and won the Queensland Open for five successive years from 1978. She claimed three other state titles – the South Australian, New South Wales and Northern Territory Opens.
Rhonda twice reached the British Open semi-finals, won the Australian Open in her golden year of 1981, and also took out the South African Open. In her formative years Rhonda won four Australian Junior Opens - in 1972, 74, 75 and 76.
Her fantastic squash feats were recognised in 1985 – the year of her retirement from the game - when she was decorated with the Queensland Sportswoman of the Year award.
Rhonda heralds from Toowoomba – a large country town in South East Queensland that has produced some great sportspeople including 2004-05 world No.1 squash player Rachael Grinham.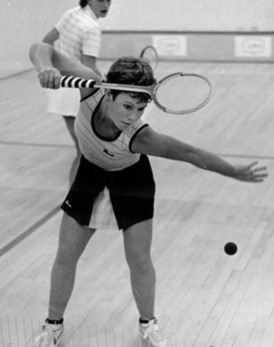 Barbara Wall
---
Born: May 25, 1948
Birthplace: Perth
Resides: Blue Mountains, NSW
Barbara Wall created sporting history in 1973 and became a trailblazer for countless others when she became the first Australian female squash player to turn professional.
Born in Perth in 1948, Barbara learned to play the game in the squash centre that her parents George and Enid built.
"Dad built one of the first centres in Western Australia where people could walk in off the street, pay their money and have a game," she said.
"Squash was booming back then. In those days you couldn't get on a court on Saturdays and Sundays.
"We had to wait for someone to be late, and then we'd race down and have a hit."
Barbara played both tennis and squash as a youngster, but opted to concentrate on squash because at that time it offered far more opportunities to travel interstate and play national tournaments, a big attraction for a teenager living in Perth in the 1960s.
"It was very exciting in those days to get on a plane and travel east," she said with a laugh.
She never really thought seriously of playing squash for a living and had even semi-retired from the sport in her mid-20s when she was restricted from playing in Australia because of her professional status.
During that period she ran a coaching school in Perth and managed her father's squash centre, but when she travelled to Sydney in 1976 to watch the Australian championships, the British team members told her that professionals could play in British tournaments and she decided then and there that that was her future.
"They opened it up which allowed Heather (McKay) to keep competing because she was turning professional, and I decided that it was a great way to see the world," she said.
"I'd never been overseas so I came home and I decided I would sell everything and go to England and play in the tournaments."
In 1977 she made the final of the British Open, the first unseeded player to do so, only to come up against the formidable Heather McKay in Heather's last British Open.
"I hadn't competed for four years and I wasn't one of the top players, but I think I got over there and for the first time in my life I had three months just hitting squash balls – and I got better and better," she said.
"Nobody knew who I was and even in Perth people were saying 'Who's Barbara Wall?'
"I thought nothing better would ever happen to me in my life -- to get to the final of the British Open and play Heather McKay."
However, two years' later better things would happen.
The following year she had a minor setback when she went out to 2007 Hall of Fame inductee Rhonda Clayton (Thorne) in the quarter-finals, and South African professional Alan Colburn told her that he thought she would go back to Australia with her talent unfulfilled.
"He was a wonderful pro and he did some work with me, but he said I would never know how good I could have been -- I would never realise my true potential," Barbara said.
With those words ringing in her ears, Barbara returned to Australia and contacted Australian track and field legend Shirley De La Hunty (Strickland), who spent almost 12 months helping her with her fitness training and her speed work.
She went back to England and went on to win the title in 1979, downing England's Sue Cogswell 8-10, 6-9, 9-4, 9-4, 9-3 in the final
"It was the most wonderful thrill to win it – you dream of it, but you never dream it will happen really," she said.
Barbara still regards that win as the highlight of a glittering career, which also includes winning the Irish Open, the Belgian and Danish Opens and the South African Champion of Champions.
She was also chosen in the Australian team for the first ever Women's World Team Championship in 1979 alongside Rhonda Clayton, Vicki Cardwell, Sue King and Anne Smith, where they finished second to a combined Great Britain team.
She said being inducted into the Hall of Fame, after nearly 20 years away from the sport, was a huge honour for her.
"It's not just about winning the British Open – it's about my whole life in squash, and for 35 years it was my life."
Career Highlights
1979 British Open
1978 Irish Open
1979 South African Champion of Champions
1979 NSW Open
Four time WA champion – 1969, 1970, 1971, 1979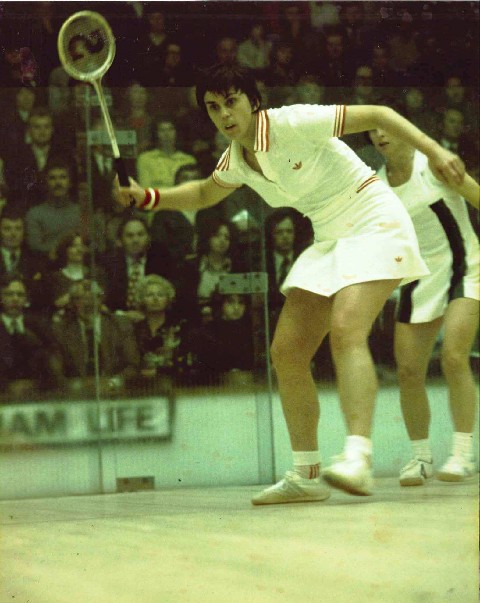 Gordon Watson
---
Born: 26 January 1916
Place of Birth: Victoria
Highest world ranking: 3
Gordon was a champion player but does not appear on any Australian or Victorian Championship Honour Boards, although he was Australia's top male squash player from 1939-1949, losing one game in the process. Also, he was a pioneer of our sport, an outstanding squash coach, managed two of the most successful squash centres/clubs in this country, plus considered by many as a doyen of squash in Australia for 48 years, from 1931 to 1979.

There is no doubt that the excellent abilities displayed by Watson in the formative years of squash in Australia, to not only play the sport but to also organise it, laid the base for the solid foundation on which many generations thrived.
Gordon started his squash career at the age of sixteen when working as a gymnasium instructor at the Pearce, Bjelke Peterson Physical Culture Institute, this building housed the first commercial squash court in Melbourne, being built in 1926, then became the club's squash professional in 1931.

In those days, anyone teaching physical fitness was classed as a professional and unable to play any sport as an amateur except golf, which meant that Gordon could only play in the Australian Professional Squash Championships, which commenced in 1931, the same year as the Australian Men's Amateur Championship was first held, although Watson did not become serious about the game until after his first trip overseas in 1936 to England and Germany.
From 1931-38 the Australian Professional Championship was won by Jim Watson (no relation), with Gordon being runner up on three occasions (1935/36 and 1938), but in the 1939 final Gordon defeated Jim and went on to remain champion until 1949.

In 1939 the Broadhurst Cup was established and played for by the Australian Amateur and Professional Champions of that year, where Gordon Watson defeated the Australian Amateur Champion Merv Weston, 9/7, 9/5, 9/0, to become the first Australian Open Champion, and remaining the Open Champion until 1949.
In 1949, Egyptian Mahmoud Abdel Karim, the British Open Champion and undefeated for fifteen years, came to Australia for the Australian Professional Championship where he met Watson in the final. Gordon led 8-3 in the fifth game before Karim staged a remarkable comeback to take the game 10-8.
There was no doubt Watson suffered from the lack of all year round competition, and his close loss to Karim inspired him to sail to England for the 1950 British Open, becoming the first Australian male player to tour overseas. Watson lost in the semi finals to the then world number two, Indian Abdul Bari 9-7 in the fifth.

The world rankings around this time were, Karim No. 1, Bari No. 2, and Watson No. 3.
An article in the Squash Player International in 1974 by Jack Giles, an English squash professional/writer, commented that, "The first player to really make an impact on the international scene was G.J. (Gordon) Watson. A very popular and respected figure, Gordon was a player of undoubted world class. He was afflicted by that bane of so many potentially great players – lack of real all-year round competition. He could get that competition in those days only by coming to the U.K., then only for a month at a time. An expensive and not very satisfactory arrangement."
Watson owned the Watson's Squash Academy in Flinders Lane for six years, prior to establishing the Gordon Watson Squash Centre in Hawthorn Road, Caulfield, where he remained until his retirement from the sport in 1979. The Gordon Watson Squash Club was the envy of all and during this period won 132 interclub pennant premierships.
Watson was also an excellent coach, highlighted by his pupils winning no less than 21 Australian Championships, and winners of zillions of state titles, including the early champions of the Women's game, Betty Meagher, Val Watts and Joan Watson, who annexed 7 Australian Amateur and 9 Victorian Amateur championships between them from 1946 to 1955, plus National male champions, Frank Harris, Merv Weston and Ian Carson, who claimed 7 Australian Amateur titles.
It is also difficult to describe the impact that Gordon's personality, and ambassadorial status had on the many people he encountered, representing his sport locally and internationally. He wrote a regular column for The Sporting Globe, did radio descriptions of squash championships, plus regularly reported on squash on radio station 3 AW, was feted as a man of humility but who was worthy of his celebrity and liked by all who met him.

Even on business trips overseas, representing Stephen King Pty. Ltd., he spread the word of squash and its potential benefits. In 1936 he displayed his outstanding vision for the game, when in conjunction with British comedian Kenneth Horne, who was also a director of a perspex company, devised a system for a four- wall perspex court, which was unfortunately shelved due to the enormity of the cost.
It is impossible to calculate the impact that his advocacy for the game had on its eventual development, but suffice to say there was no better nor more influential ambassador at that time than G.J.Watson.