Welcome to the Squash Australia Refereeing section.
Referees and tournament officials play a vital role in all Squash matters. Without their observations over anything from a local weekly pennant match to a Professional Squash Association sanctioned event, play cannot properly begin. These pages contain lots of useful information on how to become a Squash referee, the knowledge that is needed and the responsibilities that are undertaken buy all our already accredited team of officials around the country.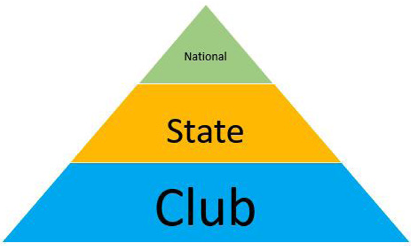 The Squash Australia Rules and Referees Committee have developed training programs for the accreditation of Squash referees of all levels.

These training programs have been accredited as the official Competency based training programs for this sport under the National Officiating Accreditation Scheme (NOAS) sanctioned by the Australian Sports Commission.

Above: Referee Accreditation pyramid, showing the 3 levels and where Squash Australia wants to focus on, being Club Referee so we as a country can have a plethora of qualified referees watching over not only regional and state wide competitions but also weekly fixture matches.

Aspiring referees now have the ability to become accredited via Squash Australia's eLearning Portal without leaving their home computer or office. Club, State and National Referee make up Australia's three levels of refereeing, with each accreditation comes greater qualifications and abilities to oversee both national and international levels of play opening doors to be a part of such events as the Australian Open, the World Open and even the Commonwealth Games.
Whether you are new to the sport, a parent of an aspiring junior or a squash devotee it has never been easier to become a registered official. Every state and territory across the country annually holds events where qualified referees play an important role, to be a part of the action click on the eLearning link below or veiw the education calendar for courses in your area.
Go to the eLearning Portal
View Education Calendar

For more information on courses in your area contact [email protected].